ARTICLE FROM thevibe.com (Click here for story)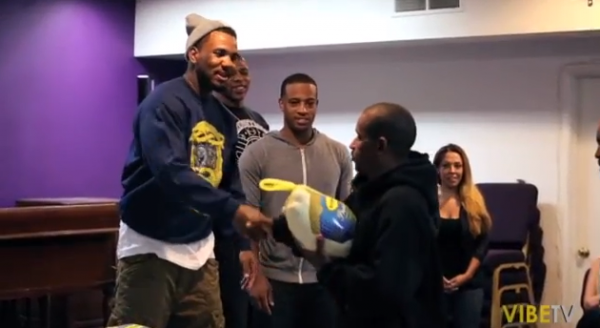 If you readers know anything about the 22 year history of "Music Inner City TV" and "Music Inner City News Magazine" you know I try to bring you information that the "majority" media will not bring to the table.
So many times African American males and even females but for sure males are made out to be "thugs" and have a police record a mile long. You hear about black men who hit their lady or a black man who is caught with drugs and etc. Not enough is said about POSITIVE things African American men do in the community. So we try to change that here at M.I.C!
That is why I bring you this information about rap artist The Game. So many times you hear about The Game in the news about negative crap. Which I have to keep it real, most of it his own fault.  But deep down inside, the cat is a good dude if you can get past the "thug" image he raps about in a lot of his songs and some something portrays in his life.
For the last few years The Game has posted up in Compton at Thanksgiving and gave away plenty of free turkeys to families in the Compton, California area. He also gives away free toys for kids at Xmas time. This is great on his part to take time and some of his money to make sure some families will have a big turkey on the table at Thanksgiving and some Xmas gifts under the tree at Xmas.
But as I said you will not hear about this kindness on CNN or MSNBC or Fox News!! No way!! But that is why we have Vibe and the Jet Magazine and Ebony Magazine and others including us here at "Music Inner City Entertainment" and our sister sports site "Sports Inner City Online" at www.sportsinnercity.com so we can let you readers know that people of color like The Game do positive things too!!    Gordon Curvey
SHOP AT OUR BRAND NEW "MUSIC INNER CITY ONLINE STORE" Buy hats, mugs, t-shirts & more! (Click here to enter our store) Powered by Cafe Press!