ARTICLE FROM thegrio.com (Full story click here)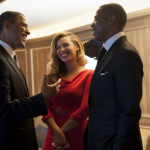 Readers let me know if you think Beyonce is not a role model for young girls in the inner city of America. Because she is a lady who has done everything right so far in her career.
As a member of the great super group Destiny's Child, in her movie career and of course as a solo performer she is at the top of female performers or hell any performer. When you go to a Beyonce concert it ain't about a performer standing at the microphone singing or a performer walking from left to right on the stage.
When you go to a Beyonce concert it is about entertainment and excitement. She is only 30 years old but she has so many hits to sing at a show. Songs of her own and with Destiny's Child. Again remember she is only 30 years old.
But off the stage Beyonce and her superstar hubby Jay-Z are trying to make a difference. They are huge supporters of President Barack Obama and have helped to put MILLIONS behind the President to help him in his re-election battle with Gov.Mitt Romney. Big money folks.
And the President has said that Beyonce is a role model of his two young daughters Malia and Sasha. And the President is telling the truth readers. Beyonce is a great lady and a VERY talented lady. Who is making a difference on the stage and off the stage. Big shout out from "Music Inner City" to Beyonce and for sure Jay-Z!     Gordon Curvey