ARTICLE FROM theboombox.com (Full story click here)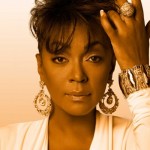 Well you can agree with her or not agree with her but singer Anita Baker has a lot of good things to say about singer Chris Brown. Please read the article above to read all her comments.
I don't know about you but I just cannot get over the beat down he gave Rihanna a few years ago in L.A. I have tried but I just cannot get over it and every time I see him perform on TV etc I just get a uneasy feeling about him. Others have totally  forgiven him but I have not. He beat the hell out the beautiful Rihanna. He really did.
Ms Baker is right. Brezzy is a very very talented young performer. And he has a LONG career ahead of him. He can become another Sammy Davis Jr. A singer, a actor, a dancer and more! Including rapping! The sky is the limit for Chris. But I am sorry I just see problems in the future. I hope I am wrong.
But I hope Ms Baker remembers one thing that I think and many many others think and that is if he beat the hell out of Rihanna once, he can beat the hell out of some other female. That's for sure. Because it seems Brown has a temper. Have you seen Chris smile after he performs at the BET Awards or other events? He seems to be a great performer but kind of angry too.
I wish Rihanna would not deal with Chris anymore. There is a pic I saw from the recent MTV Video Awards with Chris kissing Rihanna and of course Rihanna told Oprah he still loves him. I wish she would FINALLY get over Chris and move on. I wish Ms Baker would have said some of the things I am saying here in her interview.      Gordon Curvey