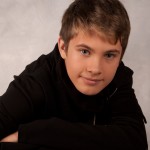 There is a new young fella making a name for himself in the music industry and his name is Daniel Peter. Peter was born in Webster City, Iowa. He is just 14 years old. He made his first music video in January in Los Angeles. His latest video is currently running on Seattle's own "Music Inner City TV" with guest Arrested Development. It was produced by my good friend Curtis Elerson.
Yours truly interviewed young Daniel via Skype video from his home in Ames, Iowa. It was a great interview. We discussed his young career, girls, his education, his future goals and much more. It will air soon on "Music Inner City TV"
Peter's parents are David and Brenda Peter. I know they are proud of their young son. One of the questions I asked Daniel is besides his parents who are his influences. He have to watch the program to find out who he says and more. Peter's website is at www.danielpetermusic.com and is a informative site on his upcoming singles, album and more.
I also asked Peter about him being so young in the business and can he handle it like say Justin Bieber or other young singers. Again you have to watch my interview with Peter coming up soon on "M.I.C-TV"
Peter's Facebook page is at  http://www.facebook.com/officialDanielPeter  and his Twitter page is at www.twitter.com/DanielWPeter  Check him out readers. You will know about this young fella because he is very talented.
Some folks will say he is a Justin Bieber clone. I say not. He is Daniel Peter and he wants people to know that. He wants to make a name for himself and have a style all his own and have a long career in the music industry. This industry can mess you up mentally and it will make you want to give up but after talking to Daniel I think he is in it for the long run.
Stay tuned for Part 2 on Daniel Peter right here on "M.I.C News Magazine"    Gordon Curvey
New "Music Inner City Video" Podcast coming at ya on Sunday. BREAKING NEWS: You will be able to now view our webcast 24-7 on-demand on your smartphone, PC, laptop, ipad and MAC! And listen to "Sports Inner City Radio" podcasts at our sports site "Sports Inner City Online" at www.sportsinnercity.com  Older webcasts in our "Television Show" link above are WMV files only.