ARTICLE FROM sister2sistermag.com (Full story click here)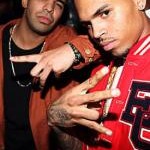 I don't know about you but I am TIRED of hearing or reading about possible problems with Drake of Chris "Brezzy" Brown on the net at various websites. I want to read or hear about something positive.
Read the above story about a fight at a club and people were hurt. Thank god no guns used or it could have been a terrible situation. And sorry to say the fight could be about singer Rihanna of course Brown's ex. And their has been rumors about Drake and Rihanna dating also.
If I was Brown, I would want to have ZERO negative things said about me in the media after beating up Rihanna a few years ago in Los Angeles. The media ripped him up for what he did and I mean ripped him up readers. But instead over the last few years we have saw Brezzy walk out of interviews and more negative things. Remember Brown has been on probation so he really cannot mess up.
Drake has not hit a lady or anything like that but he has been in the news in a nagative way too. Mainly over beefs with other rappers. In my opinion, the beefs he has had with other rappers is about on thing…..Jealous feelings. Cats are jealous because he is one of a few rappers how has truly blown up in the last few years. He is always on the Billboard charts. He is selling cd's folks. Real talk.
Fans of Brown and Drake hope they are not fighting over Rihanna. And I hope Brown will ALWAYS stay away from Rihanna!! After what he did to her I hope they will keep distance from each other. Will that happen? We will wait and see.
Gordon Curvey