ARTICLE FROM huffingtonpost.com (Full story click here)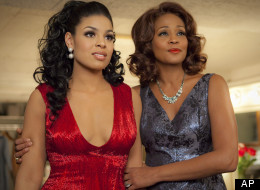 As some of readers know myself and Twin Tammy J was in Los Angeles when the legendary Whitney Houston passed away a few months ago. You can watch the interviews we did in L.A. by going to the "Television Show" link.
It was god up above who placed myself and Tammy in Southern Cal when Whitney passed. We were also in L.A. for THE SAME EVENT a few years earlier (Clive Davis Pre-Grammy Party) when singer Chris Brown beat up the beautiful Rihanna. Can you imagine that?
Sometimes I sit and think that I was their in L.A. when Houston passed and the problems of Brown/Rihanna. Sometimes god works in strange ways. He really does. He had a reason to have myself and Tammy in L.A.
 When I watched the Billboard Music Awards the other day I watched the moving tribute to Whitney by John Legend and Jordan Sparks. Whitney's daughter Bobbi Kristina made her first public speaking appearence to say thanks to everyone who has supported her and the Houston Family. I ain't going to lie, a few tears fell out my eyes readers.
In a few months the last movie Whitney played in the re-make of "Sparkle" will hit the theaters. You know the promotions will be very big soon for the movie. That is for sure!!
But check this out you can listen to Whitney's last recording right here via huffingtonpost.com  Just click the link above this blog. She recorded a song called "Celebrate" with her co-star of the movie Ms. Sparks. Like her daughter Bobbi Kristina said their will NEVER be another Whitney Houston. A TV camera went over to singer Brandy and you can see the word she mentioned. As Bobbi Kristina said "Never" Brandy also said while she cried……"Never"     Gordon Curvey