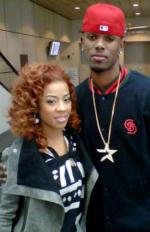 Singer Keyshia Cole is returning to B.E.T in the fall with another reality program called "Keyshia Cole: Family First" It will be great to see the beautiful Keyshia back on TV.
The program will be about her life with her husband NBA player Daniel "Bubbi" Gibson and there little child and what happens to them from day to day. A lot of folks thought the weddiing of the two was taped for the reality show. As of now we just have to wait and see if it will be shown.
Of course this is not Keyshia's first time with a reality program. She was in "Keyshia Cole: The Way It Is" on B.E.T fior three seasons and it did very well.
 She thought it would good to end the show so she can just think about family and her musc career. And that is what she did.
The first show also had her mom and sister on the program, Frankie Lyons and Neffe Pugh. And we know that a spinoff of Keyshia's first show "Frankie and Neffe" started on B.E.T. but it did not do well in he ratings and the show was dropped by the network.
So anyway Keyshia's new show will start in the fall. It will be six episodes and will be produced by James DuBose who also was the producer of  "Tiny & Toya"
 DuBose also produced Keyshia's first reality show. By the way Keyshia is a former guest on Seattle's own "Music Inner City TV" I really like and respect Keyshia because she seems to be a very down to earth female and very very grounded. More details soon on her new reality show on B.E.T Gordon Curvey