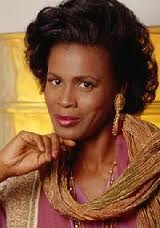 "One Man's Opinion" by Gordon E. Curvey
This morning I go online to search for possible stories to write about here on "Music Inner City News Magazine" and BAM this story hit me like a big rock in my face.
A actress that I recently wrote about Janet Hubert who many of you know played "Aunt Viv" on the popular 90's TV show "Fresh Prince Of Bel-Air" has wrote a open letter to former radio host and now TV talk show host Wendy Williams over the recently departed mega star the late Whitney Houston.
I have also recently wrote about Wendy and her what I feel big mouth. She has made a career in putting entertainers on blast on her radio show she did in New York for years and now on TV.
Some of you don't know that Williams put Whitney on FULL BLAST many times over the air during her radio show in New York. And not just behind her back readers. She did it with Whitney on the phone as a guest!!
Williams questioned Houston many times about her widely reported drug problems and her widely reported problems with her former husband singer Bobby Brown and folks things got VERY HEATED between Whitney and Wendy over the air! Very heated.
So Janet Hubert has decided to write a letter to Wendy (www.gossip.com) basically blaming Williams for helping to put Whitney in the grave. The letter is deep readers.
I am on Hubert's side on this issue. I have a problem with Wendy Williams sitting up on her so called high horse every night blasting people. BUT then guess what? WENDY WILLIAMS ADMITS TO USING CRACK!!! Say What????
She was on her high horse blasting Whitney on the phone about using drugs etc and she admits to do doing the same thing!! What a joke! AND Wendy has the NERVE to say since Whitney has died she will never discuss Whitney Houston any more.
I am sorry I have lost all respect for Wendy Williams. And gained a little respect for "Aunt Viv" Janet Hubert. This is "One's Man's Opinion"