Listen to "Music Inner City Radio" podcast from our radio show on 1150am KKNW in Seattle. That aired 1-24-2012. Entertainment and sports news, smooth jazz, classic soul, hip-hop and r&b and more! 24-7 on-demand!
ARTICLE FROM s2smagazine.com (Full story click here)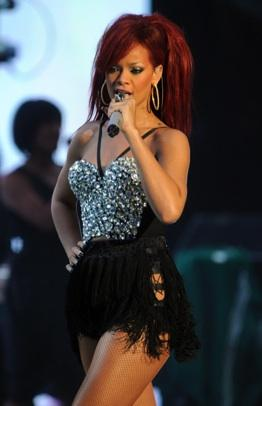 As music fans know, singer Rihanna's life has had it's share of drama. We are know about the situation with r&b singer Chris Brown. That was terrible. Something a young and beautiful female should not have to go though. Brown was flat out wrong to put a hand on a female.
But he did and the world knows about it. But Rihanna and Brown have went on with their careers. Both of them have had hit songs on the charts in the last few years. That's a good thing.
Recently their have been rumors that Breezy and Rihanna have been tweeting other AND maybe seeing each other at very secret locations so the media cannot find them. Because we know if that happened it would be on "The Insider", "Access Hollywood", "Extra" and on every gossip website on the net.
Now there are rumors that Rihanna's family is very worried about her health. Readers if you see pics and read stories about her you can see why they are worried. I have seen pics of her looking wild and half naked and doing sex like actions at her concerts etc.
It could be true that she needs some help……maybe rehab. If so she needs to get the help NOW before it is to late and she ends up like MJ or others. And we do not want to see that. I hope her family will sit down and have a long talk with her and discuss her life.
We want Rihanna to be around for a long time so we can listen to the great music she puts out for us the listening public.    Gordon Curvey
Starting tonight you can watch "Music Inner City Video" podcasts right here! Covering urban sports, entertainment and politics PLUS urban and pop music videos and exclusive interviews.
Two to three programs a week 24-7 on-demand. Just click the screen to the right. After tonight, you can find the latest "Music Inner City TV" program as well as HOURS AND HOURS of past programs just by clicking the 'TELEVISION SHOW" link above. The programs will air in the Windows Media format.
To advertise with us on TV, online and more call 206-445-3989 or 206-414-6118 or e-mail us at gcurvey@yahoo.com  For our VERY low monthly rates click the "ADVERTISE" link above.