ARTICLE FROM profootballtalk.com (Full story click here)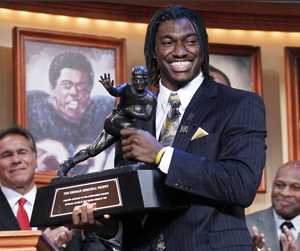 It seems EVERY sports outlet is talking about Stanford QB being the best thing since sliced bread and a for sure #1 draft pick in NFL draft.
But check this out readers, IF he comes out who said Heisman Trophy winner Robert Griffin III can't be the #1 choice by a NFL team? I think he is better than Luck and many others feel the same way! But if you liste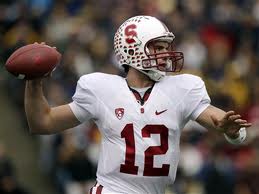 n to sports radio hosts and watch ESPN etc it is Andrew Luck…Andrew Luck…Andrew Luck. I don't think this is right and a put down of Grif III and what he did on the field at Baylor.
Many think Grif III is a better athlete than Luck, has a better arm than Luck, and don't get it twisted folks, Just because Luck went to Stanford that does not mean he is more intelligent than Grif III. By the way Grif III is a very intelligent young man, just like Luck. Did you hear his speech win he won the Heisman? Cat ain't no dummy! Real talk!!
Of course Grif III has not decided if he is coming back to Baylor or if he is tossing his hat in the ring for the NFL draft. We will have to see what happens. By the way Grif III Baylor Bears is playing our Washington Huskies in a few days in the Alomo Bowl.
Is Heisman Trophy winner Robert Griffin III better than "The People's Choice" Andrew Luck? I join others who say yes!!  Gordon Curvey