ARTICLE FROM cnn.com (Full story click here)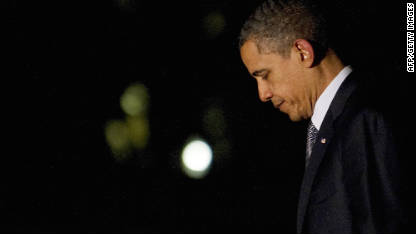 Supporters of President Obama it is time to stand up. It is coming toward 2012 and it's time to make your voices heard and support President Obama and his re-election.
Remember one thing. The right has one goal and one goal only. And that is to make the Prez a one term President and that is for sure.
Everything he is doing and has done since he has been in office is being challenged by the right. Everything readers. It has been a total respect of President Obama. It is a outrage!
I DO NOT agree with everything he has done since he has been in office. But that does not mean I am not a supporter of him. One thing for sure he is fighting against a ENTIRE network in Fox News.
Sean Hannity has made a point of blasting the President SINCE DAY ONE of his presidency. Every since the President and his family moved into the White House, Hannity and and others at Fox News have had one thing in mind and that is to bring President Barack Obama down.
Heck, the right has even talked negative about Michelle Obama and EVEN HIS KIDS!!! This is sad. Hannity refuses to say ANYTHING positive on the President. The same as Rush on radio.
Sorry to say even some at CNN and MSNBC are against the President. CNN reporter Gloria Borger is always talking negative about the President. And she never says President Obama it is always Obama or Barack Obama. Why is it some have problem calling the President, President Obama?
So I am going to do my small part as a supporter of President Obama and bring you the other side of the negativity of Fox News and the right. We have to stand up if you are a supporter of the President because 2012 is right around the corner.    Gordon Curvey