ARTICLE FROM latimes.com (Full story click here)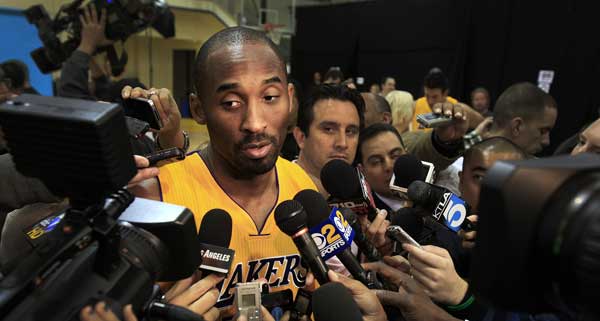 This past week has been a crazy week for the Los Angeles Lakers and the NBA. A big monster trade was suppose to take place but David Stern said "Sorry no go" And stopped the big trade that would brought "CB3" Chris Paul to the Lakers.
Now the word is Lamar Odom who was suppose to go to the Hornets, asked the Lakers to trade him. He felt unwanted by the Lakers who wanted to trade him. So guess what? He was traded to the the champs Dallas Mavericks!! What???? And guess who is upset?
Yep Kobe Bryant is unhappy with his friend being traded to a team that blasted the Lakers out of the playoffs last season. With a unhappy Bryant I see possible problems down the road if the Lakers do not replace Odom with another good player. The thing is…….who?
Lamar Odom might have got traded because the Lakers were not happy with the off season TV reality shows with his wife etc. But that cannot be because the brotha won the Sixth Man Of The Year award. He should have made the all-star team at mid-season too. The Lakers traded Lamar to the Mavs for basically nothing.
There is some strange things going on in the NBA. I am VERY glad my favorite sport is coming back on Xmas Day but this trade, then no trade, then trade has bothered me as a NBA fan.   Gordon Curvey
Watch "Music Inner City Video Podcast" below. Coming at ya from the studios of "M.I.C Entertainment" in Seattle, Washington. 24-7 on-demand! Entertainment and sports news PLUS urban music videos!