"One Man's Opinion" by Gordon Curvey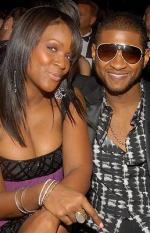 I saw a story on Sister 2 Sister Magazine the other day that made me say WHAT! The story is Usher's ex Tameka Foster is demanding that he take a drug test but he does not want to do it.
I guess this made the custody battle between Usher an Foster even worse. This story is not being talked about a lot in the media which is a big surprise to me.
Foster has tried to make a point for instance that Usher was high during a performance in September 2008 in Germany. A video of Usher shows him not acting right on stage and unable to sing. Foster said shortly afterwords she found pills in his pocket. Usher's folks said he had a respiratory infection but she is not buying it.
Readers what is really going on here? Is Tameka on the grind trying to make Usher look bad in the public eye and make her look good in their battle for their children?
Some think this is part of a "money grab" by Foster. Here is the thing. WHY does she have to talk in the public about Usher that makes him look bad? Does she know how to say "No comment"
I think this is something between Usher Raymond and Tameka Foster. It should be kept between them in my honest opinion. I just hope they will settle what ever is going on for the benefit of their children.