ARTICLE FROM eonline.com (Full story click here)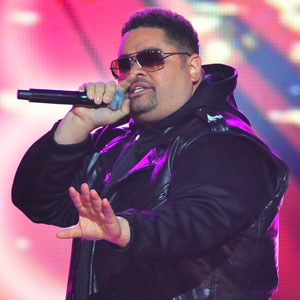 What a day November 8th was. We had Herman Cain and his lady problems holding a press conference,  had the news of the child molesting charges at Penn State all over the news and then the death of "The Overweight Lover" Heavy D.
Heavy died to young at 44. He was one of my favorite old school rappers. Back in the day he and his group Heavy D And The Boyz had hit after hit. There music was feel good music. Music that made you tap your feet and move your body.
I remember going to a show at Key Arena here in Seattle where Heavy D his group peformed.  I was amazed how Heavy moved around the stage being a real big dude. Now he is gone way to young.
He performed on the BET Hip-Hop Awards in the ATL a few weeks ago. He performed all his hits. But I did notice he got a little tired near the end of his performace. I noticed it.
You did not hear Heavy D in trouble at the club or any negativity. He was a good actor too on TV and the movies. I know he had to have big plans in the future. Word is he was way overweight at about 300 pounds.
Anyway Heavy D leaves us with a lot of good music. And my prayers go out to his family. Rest in peace my brotha and thanks or what you left us in the field of hip-hop music.  Gordon Curvey