ARTICLE FROM today.msnbc.com (Full story click here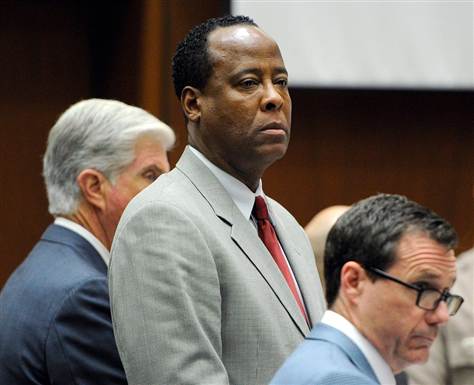 I sat amazed at what I just saw on TV. I watched the O.J. verdict, the Casey Anthony verdict, the Rodney King verdict and other verdicts and now I have watched Dr. Conrad Murrey found guilty of involuntary manslaughter in the death of the King Of Pop Micheal Jackson. Unreal!
As I watched on Headline News as the verdict was announced Dr. Murrey sat like a statue in his chair. When the verdict was announced he was guilty, Dr. Murrey continued to sit there like a statue.
What I do not like is the crowd I saw outside cheering like they all won the lottery. Here is the thing. This is a VERY sad situation. Micheal Jackson is no longer here and Dr Murrey is going to jail. This is very very sad.
In my opinion it is very sad all the way around. Katherine Jackson and Joe Jackson lost her son. Jermaine, Jackie, Tito, Latoya, Janet, Rebbie, Marlon and Randy  lost their brother way to young. It is very very sad.
I wish the best for Micheal's kids. They seem like very down to earth and balanced young kids who want to be in the entertainment industry. My prayers go out to the entire Jackson Family. And may Micheal continue to rest in peace.    Gordon Curvey