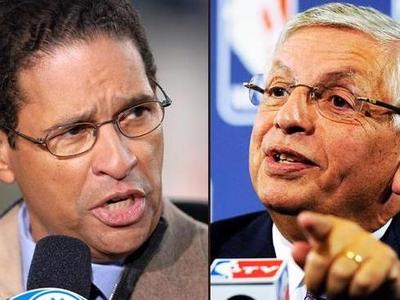 ARTICLE FROM thegrio.com (Full story click here)
Veteran broadcaster Bryant Gumbel is fed up with the actions of NBA Commissioner David Stern because of his actions or words in the on going labor talks between the players and the owners over this NBA lockout.
Gumbel had some stong words for Stern. Please read the article in the link above. Bryant basically called Stern a slave master and the NBA players are their slaves. And because of this we may not have a NBA season. Which will be TERRIBLE.
Bryant as a sports fan is pissed and so am I readers. If you check out Stern he can come off as arrogant and uppity. Like "I am Dave Stern and who are you?" Meanwhile days are passing by and we the fans of the NBA have already had two weeks of the season canceled. This is just not good.
Bryant should also put Micheal Jordan on blast for not being in the meetings. MJ in my opinion should get his ass off the golf course walking around with a big cigar and help the players!! You see MJ was a all time great  and is now a owner. No one in the meetings can say that. He can come from both angles. MJ should be in the meetings.
And so should Kobe Bryant, KG, LeBron, Melo, Amerie, Dirk, Jason Terry and other vets of the NBA. Get in the meetings and help Derek Fisher to hammer out a deal so we the fans can enjoy the NBA. We will keep in up to date with the NBA lockout right here.  Gordon Curvey
'MUSIC INNER CITY TV" LIVE at 11:05pm Friday night Pacific time!! Just click Ustream TV screen above! Videos/Sports news and more. From Seattle.