ARTICLE FROM s2smagazine.com (Full story click here)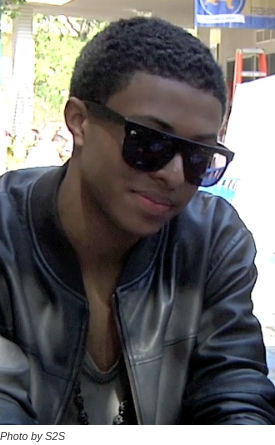 We have seen young Diggy Simmons grow up from a little kid to a young man because of watching him on TV for years on "Run's House"
Of course his father is the legendary Rev. Run of the group Run D.M.C. Rev. Run has done a great job in bringing up his kids. A great job. Some think Rev. Run's kids are spoiled brats. I do not think that at all.
It seems to me Rev. Run made his kids get a good education in school and has brought up his kids to want to work hard when they get older. Diggy Simmons has grown up and has worked hard to make a name for himself in hip-hop.
Yes for sure doors was opened up for Diggy because of who his daddy is but truth be told young Diggy Simmons has skills. Real talk. He really does.
Here is a question. If you watched "Run's House" you will know that Diggy Simmons big brother JoJo is also a rapper but we have not heard from JoJo regarding his music. Maybe we will one day. In the meantime, shout out to Diggy Simmons and we will be playing his videos soon on Seattle's own "Music Inner City TV"  Gordon Curvey
Watch "Music Inner City Ustream TV" right here!! Every Friday night at 9pm to 10pm Pacific Time and midnight Eastern time. Playing urban music videos, exclusive interviews and more LIVE from Seattle, Washington.