ARTICLE FROM huffingtonpost.com (Full story click here)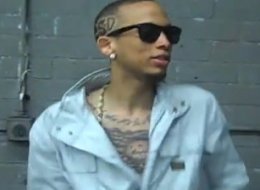 Hey people, this killing is terrible. And it really upsets me as a cat in the music business. M-Bone of the group Cali Swag District was killed in a drive by shooting in Inglewood, Ca. He was only 22.
The group was known for the monster hit "Teach Me How To Dougie" last year. The song blew up all over the world and put the young group on the hip-hop map.
The problem right now is the killers of M-Bone is still on the run and have not been caught.
Why did M-Bone have to die so damn young? When will the violence stop? TO MANY YOUNG PEOPLE ARE DYING IN THE STREETS!! The violence has to stop!!
I bet you M-Bone died over some small issue. Maybe someone was jealous of the group or M-Bone, maybe it was about money or a female. All I know this young fella is dead and dead to young. Our prayers go out to the family of M-Bone from "Music Inner City"    Gordon Curvey
"Music Inner City" Video Podcast/5-18-2011/Entertainment news/politics/music videos and more.