ARTICLE FROM popeater.com (Full story click here)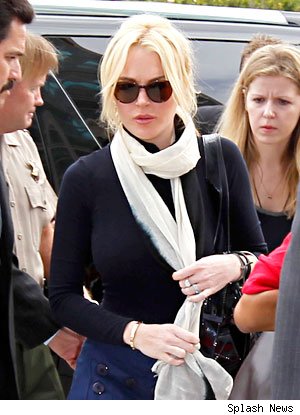 Actress Lindsey Lohan cannot seem to get her life together. She appeared in court in Los Angeles the other day because she violated her probation.
Lohan was sentenced to 480 hours of community service and 120 days in jail but her laywer filed a appeal and her bail was set at $75,000.
It seems this female is headed to nowhere. Her movie career seems doomed as far as I am concerned. She is a trouble maker. Who is going to trust her to be in their movie? They will not know if she is going to be on time or even show up at all!
Lohan is a very talented actress. It is truly sad that at a young age her career in Hollywood is going down the tubes. Some say her problems started because of her parents who have had their own problems.
Let's hope Lohan will learn to fly right and get her life together before it is too late and she ends up like Micheal Jackson at a young age. Gordon Curvey
More stories:
–Jay opens launches a news website. Covering the urban world. Read more. marguee.blogs.com
–Tyler Perry finally goes off on fellow filmaker Spike Lee. Read more. s2smagazine.com
–ANOTHER Seattle native Brandon Roy hits game winner for Portland as they beat Dallas bnd.com
–Seattle's own Jamal Crawford hits winning three pointer in win the Magic. Read more. ajc.com
–Third smallest Mariner game crowd at Safeco Field watch Hernandez win. Read more. sportsinnercity.com