ARTICLE FROM cnn.com (Full story click here)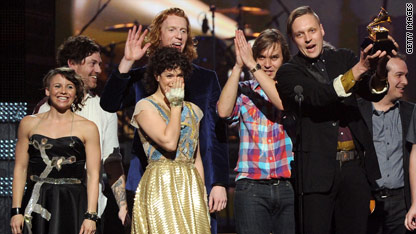 As a person who is in the music industry for more than twenty years I am shocked at what happened at the Grammy Awards I watched on CBS. What are people thinking?
How on earth did The Suburbs beat out mega star Eminem for Album of the Year? His "Recovery" was the year's best selling album. I cannot put in my brain how Slim Shady lost to The Suburbs. Something is very wrong there.
Also nothing against my African American sista Esperanza Spalding BUT how on earth did she win Best New Artist? What!! I had never even heard of her. She won the award beating Drake and a young talented young fella who has taken the industry by storm and even has a movie coming out, Justin Bieber. What!! How can that happen?
Shout out to the legendary Mavis Staples for finally winning a Grammy after decades in the industry. I was so happy to see her win. Also another legend Sir Paul McCartney won his first Grammy in 31 years for Best Solo Rock Performance for "Helter Skelter". A song his former group, you heard of them…The Beatles first recorded in 1968.
And if you don't know, Lady GaGa arrived to go down the red carpet in a big giant egg!! I am not lying folks she did!! You have to give it to GaGa. She is a for real entertainer with her own style. Unlike many many artists.
But I just cannot get over The Surburbs and Esperanza Spalding winning awards. Unreal folks.    Gordon Curvey