ARTICLE FROM wahingtonpost.com (Full story click here)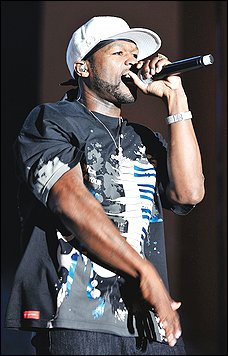 I watching TV the other day and saw a program about Curtis Jackson aka 50 Cent. It was a very good program telling how he grew up and became a very rich man.
The above link tells the story on 50. He grew up very rough and of course sold crack and and he did his "thug" life on the streets of NY.
But he used the cash from drugs to help him pay for his future career and he was determained to make it in the hip-hip/rap world and became one biggest stars in the game.
But Jackson did not stop at being a rap star. He wanted to be a business man too. And for sure he became a HUGE business man.
Investing in Vitamin Water and running G-Unit, 50 is multi-millionaire worth about a half billion dollars and growing.
Truth be told his music has taken kind of a back seat to his acting and his businesses. I have a lot of respect for cats like 50 and Diddy and Nelly and Jay Z. These cats make huge profits on the stage and for sure off the stage.      Gordon Curvey
HAPPY HOLIDAYS FROM "MUSIC INNER CITY ENTERTAINMENT" "Music Inner City News Magazine" is the #1 urban site on the Internet from the Northwest. Please check out our podcasts and webcasts, MTV News and video, links to other sites and more.