ARTICLE FROM cnn.com (Full article click here)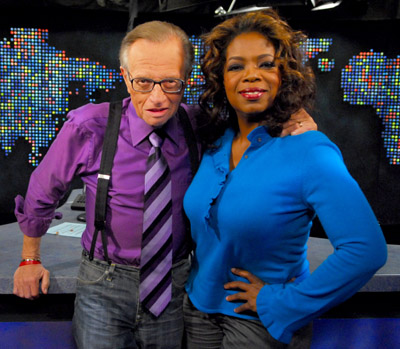 If you are a broadcaster of any kind you should look up to Larry King as a role model to look up to. Of course I am a broadcaster and I look up to Larry King.
King just did his last program of "Larry King Live" on Thursday. It was a star filled program.
One thing for sure, even if King is a older cat, he had rappers like Snoop Dogg and Jay Z on his program, r&b stars, sports stars and of course politicians.
It is must be a 25 year thing because Larrry is stopping his program after 25 years and so is media icon and former guest on "Music Inner City TV" Oprah after 25 years.
I respect King a lot because he always gave a platform for minorities on his program. He was fair all the time unlike Sean Hannity or Bill O'Reilly on Fox News. It is right wing guests all the time.
Word is Bill O'Reilly was kicking King's butt in the ratings but that is O.K. because I watched him all the time. I wish King the best and thank him for all the years of "Larry King Live"   Gordon Curvey
We are celebrating twenty years of broadcasting of "Music Inner City TV" Thanks for your support though the years!!
Watch webcasts of our TV shows on Comcast right here!! Plus our radio show on 1150 am KKNW which airs Friday night at 10pm in the Seattle area and LIVE  online at www.1150kknw.com Our TV show show on Comcast On Demand all over Washington state.
Just go to "get local" and then "around the sound" and enjoy the programs morning noon or night.