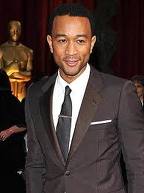 ARTICLE FROM blackvoices.com (Full story click here)
A few weeks ago I was on my way back to my residence/office/studio here in Seattle and I passed by Franklin High School here in Seattle and saw a bunch of students standing outside waiting to get into the gym for a event.
I also saw a tour bus with MTV "Get Schooled" all over it. I quickly found out what the event was about. It was a tour with music and sports stars going all over the U.S. to schools talking to the youth about staying in school and to get a good education.
I was lucky enough to have my video camera in my car and MTV's people made a call back to New York to verify I am a legit video program here in Seattle so I can cover the event for Music Inner City TV. MTV knew of my show and I was let in to cover the event and I got interviews with Common and MTV's Sway.
One of stars who has used his name to speak out about the importance of a good education and staying in school is singer John Legend who has been nominated for this years Critic's Choice Award for a song he wrote and song he produced call "Waiting For Superman"
Legend is doing his part to speak to the youth about having a good education all over the place including his concerts all over America. This is great on the part of entertainers like Legend, Common, Keri Hilson, sports star Shaquille O'Neal and others to say to the youth that a education is very very important.
As some of you may know, EVERY guest on "Music Inner City TV" over the twenty years I have done the program is asked to speak to the youth about staying in school, staying away from drugs and more. The youth is our future and they need to know how important a education is. Real talk folks.  Gordon Curvey
Adverise with the #1 urban website on the Internet from the Northwest "Music Inner City News Magazine" and reach thousands of people all over the world.
And advertise on "Music Inner City TV" that airs all over Western Washington state 24/7 on Comcast On-Demand. If you are in the Seattle area or Western Washington state go to "get local" and then "around the sound" Advertise and reach up to 2 million homes!
Call us at 206-445-3989 or send us a e-mail at gcurvey@yahoo.com for more information and we will send you are rate card with our VERY low prices.