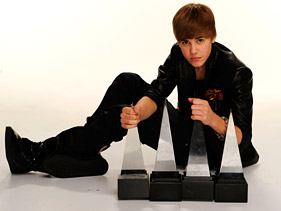 ARTICLE FROM mtv.com (Full story click here)
This year I was posted up in snowy and cold Seattle to watch the 2010 American Music Awards. I have been lucky enough to cover the AMA's only once. Why I do not understand but anyway I always give my opinions of the "urban" acts of the show right here.
The show started with a great with a performance by Rihanna. She looked a little nervous. Her dancing skills need to improve a little but the female can sing so she make up for the lack of dancing skills.
I enjoyed the song by rocker Kid Rock as well as the performance by Enrique Iglesias and Pitball. I really liked the performance.
I also enjoyed the performance by Ne-Yo. It was one of the best of the night. Also young Justin Bieber performance was real good with the gospal group in the background. He got a standing ovation. Bieber also won four awards.
Usher performance was great too. Full of energy and great dancing. The show ended with a performance by The Backstreet Boys and New Kids On The Block together. It was a great ending of the show. Shout out to the AMA's for putting on a energetic and exciting show year after year.     Gordon Curvey
Watch entire programs of "Music Inner City TV" RIGHT HERE on the #1 urban website on the Internet from the Northwest (U.S.) "Music Inner City New Magazine"
And listen to podcasts of "Music Inner City Radio" RIGHT HERE also. "Music Inner City TV" airs 24/7 on Comcast On Demand all over Western Washington state. Go to "get local" and then "around the sound" And "Music Inner City Radio" airs every Friday night in Seattle area on 1150am KKNW.
Future guests include former NBA player and Seattle Sonic Olden Polynice, the younger brother of super-producer Timberland, Sebastian, Mon E-G, L.E.S.G.O, Marcus Camby and Westley Matthews Jr. and much more!!!