ARTICLE FROM nfl.com (Full story click here)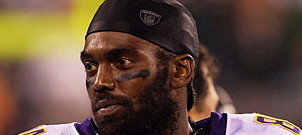 NFL player and future Hall Of Famer Randy Moss was released today by the Minnesota Vikings a day after the Vikings was beat by Randy's former team New England.
Moss at the post game press conference for some reason praised his former team and the head coach and to me that might be a reason for his release but truth be told, something happened in the locker room or on the team plane that got Moss cut from the team.
Head Coach Brad Childress has the power to cut players and he did just that to Moss. But fans are wondering one thing……..why?
I am confused just like Viking fans are confused. I know Vikings players have to be confused and even angry at what happened to Randy Moss.
So now here is the question. Who will pick Moss up? Miami? What about here in my hometown of Seattle with the Seahawks? Our O line is not the best in the NFL but let's see what happens. Rumor is the Seahawks have connected Randy's people.
Or what about going back with New England? I guess we have to wait and see. We will report on it when Moss signs with another team right here on "Music Inner City News Magazine"    Gordon Curvey
"Music Inner City News Magazine" is the #1 urban website on the Internet from the Northwest (U.S.) Spread the word!!