Full bio of Russell Simmon click here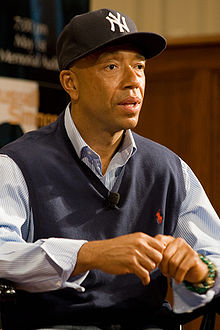 There is one person who I respect tremendously besides my mom, President Barack Obama and Oprah Winfrey and that is businessman Russell Simmons.
Russell is someone young kids in the inner city can really look up to. He came from nothing and made himself into a multi-millionaire.
Simmons is worth $340 million. He started Def Jam Records with Rick Rubin 1984. A member of the legendary rap Run DMC, Joseph (Rev Run) Simmons is his brother.
He sold his stake of Def Jam Records for $100 million. Simmons does a lot of charity work which you can read about in the M.I.C bio.
Russell started the "Hip Hop Summit Network" a few years ago to work on problems in hip-hop music like the "B" word and the "N" word in rap and hip-hop lyrics. For some reason the Summit had big turnouts in every city it had sessions in EXCEPT here in Seattle. For some reason ( i know why) the people or person responsible for putting the Summit together here in Seattle for Russell just messed up and did not do the work to make the "Hip Hop Summit" a success here in Seattle. What a shame.
Russell started a website called "Global Grind" a few years ago with his brother Rev Run and it has been a success. It is at www.globalgrind.com
Anyway a big shout out to Russell Simmons from "Music Inner City" Keep doin what ya doin bro!!    Gordon Curvey