ARTICLE FROM comcast.net (Full story click here)
"One Man's Opinion" by Gordon Curvey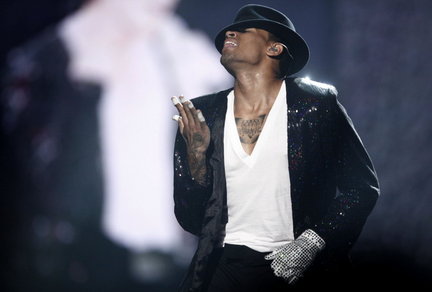 Because of negative feelings towards yours truly by B.E.T's Zabrina Horton, our media outlet was turned down from coverage of this years B.E.T Awards in L.A. So I was at home watching like millions of others.
It was a great show. A El DaBarge comeback (great to see him back on the scene)  a Kanye comeback, great performances by Diddy, Slim Shady, Alicia Keys, Drake and many others.
But none of them touched the performance by singer Chris Brown. The disgraced Chris Brown. The one who beat up Rihanna.
Brown's performance of MJ was the best I've seen since Jackson's death. The best. Near the end of his set, Brown broke down and cried and could not finish his performance. MJ's big brother Jermaine, walked with Chris off the stage.
I see on the net today that some people think Brown was faking tears. I don't thing Brown was faking. It was real. I was a combination of what he has been though in the past months and his love of MJ.
It is a fact that Chris Browns cd sales have dropped big time. His career has suffered since his problems with Rihanna. He has had run ins with reporters, radio dj's etc. The question is readers, will Chris Brown every be back on top with a hit song again? Time will tell.
Look for Chris Brown's brand new music videos on Seatlle's own "Music Inner City TV" on Comcast on Demand all over Western Washington state 24/7. Plus other artists videos and much more!
We also air on SCAN-TV ch 29-77 in the Seattle area every Saturday night at 9:30pm.