ARTICLE FROM rentonreporter.com (Full story click here)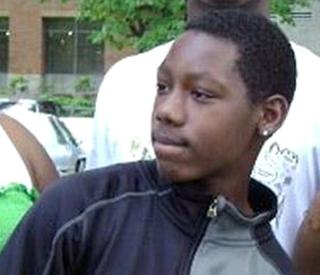 If you are in the Seattle area you should already know that 12 year old Alajawon Brown was shot and killed recently for I guess being in the wrong place and was caught in a cross fire of about 20 to 25 shots.
This story is truly truly sad. A mom has lost her little boy and a dad has lost his little boy too. A grandmom or dad has lost their grandchild.
Young Brown had just bought some shoes to get ready to play football. He worked cleaning up a family members kitchen to earn $20 for the shoes. Now he is dead. This is truly sad.
Also in my opinion is a certain radio talk show in the Seattle area who had young Alajawan's mom on his show to grab ratings or to build his ego. Also this host has done what we call "biting" in the hood.
I am the one who sent out a big e-mail to my list and to my almost 600 Facebook and Twitter friends concerning the killing of the young kid. I knew in the back of my mind that this talk show host would have the mom on his show. Well I was right.
This same radio host has never had me on his radio show to discuss my almost two decades of producing "Music Inner City TV" and I have asked him time and time again to be a guest on his show.
But since I have MY OWN radio show on 1150 KKNW (Friday night at 10pm) I do not need to be on this cat's show. Bottom line is I AM A LEADER NOT A FOLLOWER.
Hopefully this same talk show host will make his voice heard concerning the KUBE93 Summer Jam where young kids will be in attendance to hear the "N" word a thousand times and all kind of language young kids should not hear.
In ending, my prayers go out to the family of 12 year old Alajawan Brown. One thing is for sure, 12 years old is to young to die. Let's please stop the violence and increase the peace in our communities.
You can watch HOURS AND HOURS of "Music Inner City TV" right here and also listen to "Music Inner City Radio" podcast too.
Just click the links above and enjoy!!