ARTICLE FROM biography.com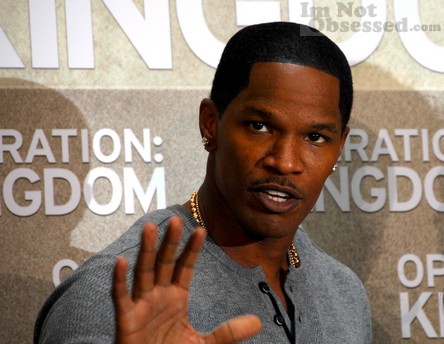 (Full story click here)
"One Man's Opinion" by Gordon Curvey
Singer, actor, comedian, writer? That is Academy Award winner Jamie Foxx. Dude is a very talented fella who is getting a chance to show everyone his talents.
I remember when I brought Foxx to Rainier Community Center here in Seattle in 1995 when he was still a cast member of "Living Color".
I was suppose to have Foxx show up at the center for the kids but he had to fly back to L.A on business. But he made a promise to come back. And he did!!
It was great fun for the kids. He taped a interview for my TV show "Music Inner City TV" and signed autographs for the kids, played pool and ping-pong with the kids and more. Those kids that was there will never forget that day.
Foxx is taking advantage of everything while he can because in the entertainment industry you can hot one day and a nobody the next.
There are only a hand full of cats who can sell millions of cd's and make millions doing movies. Might of fact he might be the only one. Can you name another? I can't. Shout out to Jamie Foxx for showing us the talents behind the mic and in front of the camera.
Check out "Music Inner City Radio" podcasts right here!! Entertainment and sports news, classic soul and hip-hop music and exclusive short interviews. Just click the pic or click the "podcast" link above.
2010 we will be coming at ya on a regular basis with our podcasts! Plus watch MTV news and video right here also. And watch HOURS AND HOURS of "Music Inner City TV" Just click the "Television Show" link above.