ARTICLE FROM nytimes.com (Full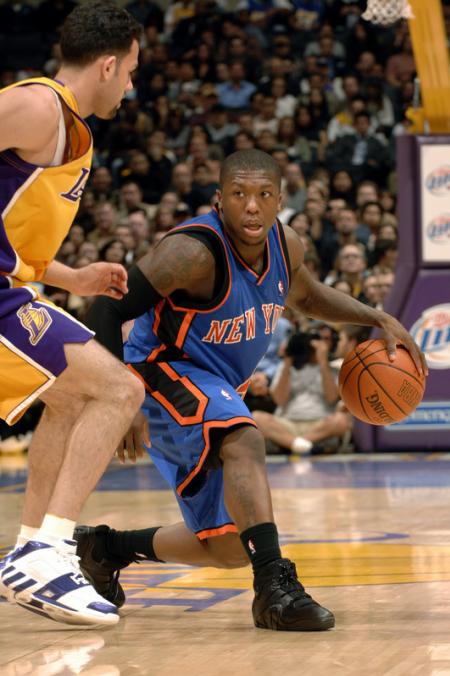 story click here)
"One Man's Opinion" by Gordon Curvey
Tonight after watching football all day long I needed a basketball fix and thanks goodness a  NBA game was on the tube between the New York Knicks and the Atlanta Hawks. That means it featured two Seattle, Washington residents. Nate Robinson of the Knicks and Jamal Crawford of the Hawks. Two of many NBA players from the Seattle area.
And after sitting on the bench for 14 games, little Nate FINALLY was allowed to play and DID HE PLAY!!! Let me repeat DID HE PLAY!!
He came of the bench midway though the first quarter and began his attack on the Hawks.
Robinson scored from three point land, on drives and dished off to his teammates and even grabbed some boards.
The Hawk crowd was in shock. As a sports fan I was in shock in what I was watching from a cat I watched growing up playing for Rainier Beach High and the Washington Huskies here in Seattle.
Nate ended up with 41 points!! It was unreal readers!! It was one of the greatest displays of a NBA player doing his thing I have ever seen. He wanted to show the NY coaches I am ready to play. Truth be told, I don't understand why the NY coaches kept him out so long. It was very unfair.
A big Seattle shout out to Nate Robinson. It was a lot of fun watching a guy from my area showing Seattle cats have serious game!!
Soon I will be doing a story on all the Seattle NBA players. The national media just has not caught on to the fact that their are so many players from Seattle in the NBA.
Listen to "Sports Inner City Radio" podcasts right here. Exclusive interviews, classic soul, new music and more. Plus watch Ustream.tv!!
We are one of a few urban sports websites on the Internet!! Spread the word on our site.