ARTICLE FROM ballerstutus.com (Full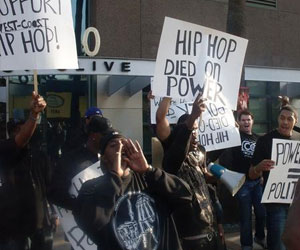 story click here)
P.S. I received a call regarding a protest held on Nov 27th in Los Angeles against radio station Power 106 in the city. So I looked up the story on the net and found it. I was happy to see cats standing up for local airplay.
Snoop and other known artists stood up and spoke out for up and coming west coast artist and L.A. area artists to have local airplay on Power 106. The same thing happened in San Francisco a year or so ago when cats held a protest against S.F. station KMEL.
Shout out to cats in L.A. and S.F. Now it is time for Seattle area folks to stand up against KUBE93. Who plays the same Luda, Weezy, Jay, Flo Rider, Fab etc over and over and over and over. And no local artists. ONLY Mix-A-Lot will get some day time spins. He has not had a hit since "Baby Got Back" in 1991!!! PLUS KUBE does not step foot in the African American community and does not promote events like their Summer Jam in the African American owned media like here at "Music Inner City" and the "The Facts" Newspaper etc.
But local artists and hip-hop leaders here in Seattle are afraid and scared to stand up. They are SLEEP WALKING!!! To much RAIN ON THE BRAIN!!!! It is time to put pressure on KUBE 93 and demand that they play local artists during PRIME TIME.
So called young leaders need to stand up just like they did in L.A. against Power 106 and in S.F. against KMEL. Will it happen? Most likely not. Cats here in town are more worried about the shiny rims on the rides, expensive sneakers, gold chains, smoking bud and chasing the honeys and being "ghetto celebrities".
They want to run into a basement studio and produce a cd, get a few printed, toss them in their rides, and have a few in the local cd store, make a few flyer's and mostly it. They do not produce a well made music video to play on my show "Music Inner City TV"
They do not want to spend a few $$ for ads on "M.I.C-TV" Instead they put money in the "majority media's" pocket. Outside of the African American community. By the way, the local promoters do the same!!! By the way the Asian community and Hispanics DO NOT operate this way.
The artists and promoters here in the Seattle area do things ass backwards. It is time to stand up against KUBE93 and DEMAND PRIME TIME SPINS. It is time to support your local video show that has been on the air for almost two decades and is nationally respected. Get your heads out of the rainy skies of Seattle!!! YOUNG PEOPLE STAND UP!!!!
If the folks in L.A. can stand up, if the folks in S.F. can stand up, what in the hell is holding cats up in the Seattle/Tacoma area??????? Holla at me if you want to comment on this article at 206-851-2423 or 206-414-6118 or e-mail me gcurvey@yahoo.com Gordon Curvey