ARTICLE FROM mtv.com (Full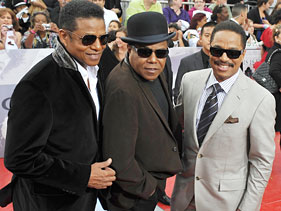 story click here)
P.S. I watched the premiere of the late "King Of Pop" Michael Jackson's film "This Is It" via Ustream TV on the net and was amazed at all the stars that showed at Nokia Theater in Los Angeles.
Will Smith and his wife Jada, Martin Lawrence, of course the Jackson brothers, Jermaine, Tito, Marlon and Jackie were there and many many other stars. Even a Hollywood legend like Mickey Rooney and his wife was there.
MJ's brother Tito was their, but he refuses to look at the movie. MJ's sister Janet and other Jackson family members are not ready to see the movie yet too. They still are mourning his death and they just don't want to view the movie yet.
"This Is It" is going to break all kinds of records as far as box office sells from all over the world. The movie will show in theaters for only two weeks so if you want to see it, you only have this week and next week to view it. G.C.
WATCH "MUSIC INNER CITY LIVE" EVERY NIGHT AT 10PM TO 10:30PM RIGHT HERE!!! FROM THE STUDIOS OF "MUSIC INNER CITY TV IN SEATTLE. ENTERTAINMENT & URBAN SPORTS NEWS, PRESIDENT OBAMA NEWS AND "CLASSIC SOUL" MUSIC PLUS UNDERGROUND MUSIC VIDEOS!!
JUST CLICK THE "LIVE USTREAM" LIVE ABOVE AND ENJOY THE SHOW!!