ARTICLE FROM mtv.com (Full artic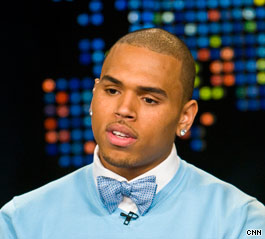 le click here)
P.S. I just watched a so called interview with singer Chris Brown and his mom and lawyer on Larry King on CNN and was real disappointed.
Maybe I expected to much. I wanted to hear more. I wanted to see that Brown was very very sorry to what he did to Rihanna. I did not see much emotion from Brown. Their was more emotion from his mom than from Chris.
Brown was Mr. Cool. I wanted to see Chris hug his mom when Larry asked her about her own problems in past relationships and she started to cry. Brown just sat there.
Larry did his best to get some concrete answers from Chris but it did not happen. It seems King just gave up on the tough questions knowing he was not going to get the answer he wanted. And I wanted to by the way.
Brown said he does not remember the incident. He said he does not remember beating Rihanna's face so bad she looked like a boxer after a 10 round beating. Yo Chris……….THAT'S BS!!!!
I have not played any of Brown's music videos since the incident. I do not know when I will play another one. I am very disappointed in the actions of Chris Brown against Rihanna. It will take me awhile before I get over his actions. Gordon Curvey
Future guests on "Music Inner City TV" include DJ Kay Gee and Vin Rock of the legendary hip-hop group Naughty By Nature, Young Ro, new r&b group Komplete and much more!
"Music Inner City TV" airs on Comcast On-Demand TV all over Western Washington state 24 hours a day. Just go to "music" and then look for our shows. We also webcast many programs right here!!