ARTICLE FROM radaronline.com (Full story click here)
P.S.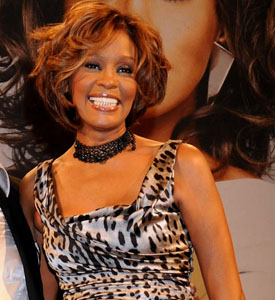 I am happy as hell to see the return of Whitney to where she belongs. On stage singing her ass off and recording good and soulful songs for us to enjoy.
Houston is one of the greatest singers of all time and has sold millions and millions of cd's. When you ask younger female singers who are their favorite singers they say Chaka Khan, Aretha Franklin and Whitney Houston most of the time.
Yes, she has had her drug problems but she has tried very very hard to put that problem in the past after her divorce from singer Bobby Brown.
I saw first hand that Whitney is back when I saw her perform at this years Clive Davis Pre-Grammy Party in Los Angeles. She was off the hook!!! A GREAT performance. It was a vintage Whitney Houston performance. She got a loud standing ovation. It was great.
So welcome back Whitney. And I can't wait to hear her new cd. G.C.
Listen to "Music Inner City Radio" Urban sports news, entertainment news, and news on President Obama. Just click "Music Inner City Radio" link at the top of this page.