ARTICLE FROM forbes.com (Full story click here)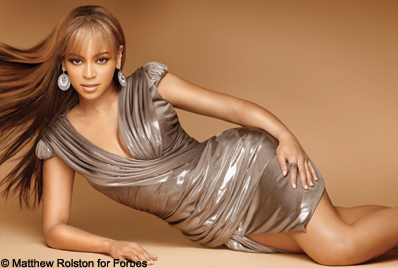 P.S. Superstar Beyonce is a one lady business empire. This is a fact. Movies, singing, TV commercials, a great dancer, a song writer, See she does it all.
And she still is young. There are a lot of copy cat Beyonce's out in the music game but show their is only one Beyonce Knowles.
It was a plan from the start when she was a little girl that she would be a star. And she is. The same thing happened to little Micheal Jackson when he started with his brothers in the Jackson Five. Micheal got older and started to cash real big checks. The same with Beyonce.
She is a role model for young girls. Keep doing your thing girlfriend!! On a personal note, I hope success comes to former Desiny's Child member and recent guest on M.I.C-TV Letoya Luckett also. Gordon Curvey
"Music Inner City News Magazine" is a spin-off of "Music Inner City TV" on Comcast On-Demand that airs all over Western Washington state and also ENTIRE webcasts right here!!
We are the only locally produced program of it's type in the Northwest (U.S)
We cover entertainment news, President Obama news, urban sports and much more! Spread the word on M.I.C News Magazine! One of the top urban websites on the internet!