ARTICLE FROM cleveland.com (Full story click here)
P.S.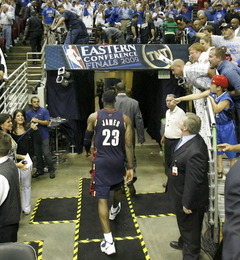 LeBron is suppose to be a leader, a superstar, the "King". Yes he is only 24. But that is no excuse for James walking out and not shaking hands with the Magic players after the Cavs got beat by his Olympic teammate Dwight Howard and the Orland Magic.
By doing that and then not talk to the media in the media room was wrong. He acted uppity. Like he is better than everyone else.
When MJ was young, he talked to the media etc after they were eliminated. Kobe got beat real bad last year by the Celtics but he shook all the Celtics hand and talked to the media too. James should have done the same.
To makes matters, a day after he did all this, he would not back down. He said he did not want to shake the hands of players after they got beat. BUT if the Cavs won, that would be a totally different story. Plus to make matters worse, he was wearing a New York hat. My brotha just does not get it. Hopefully James will learn from all this and do better next time. G.C.
"Music Inner City News Magazine" is a spin-off of the only locally produced urban music/urban sports/interview TV program in the Northwest (U.S.)
We broadcast on Comcast On-Demand TV 24 hours a day all over Western Washington. PLUS we webcast 24/7 on-demand right here! Just click "Television Show" link above.
Plus listen to "Music Inner City Radio" Urban sports news and issues. Just click the radio link above or the pic.