ARTICLE FROM ap.com (Full story click here)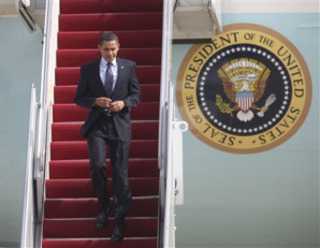 P.S I don't know where this first 100 days came from but anyway I think our President is doing a great job as our leader.
You have clowns like Sean Hannity and Bill O'Reilly and Neil Cavuto at Fox News trying to bring him down each and every day on TV and Laura Ingraham and Bill Cunningham and Rush Limbaugh and others on radio.
If you listen to conservative radio and TV you would think President Obama's first 100 days has been a total failure. But that is not true.
Of course every thing cannot run smoothly but he and his cabinet is doing the best they can. I think President Obama will be one of the best Presidents in the history of America.
He has a lot to deal with right now. The economy, two wars, the swine flu outbreak and much more. It is time for Hannity and Rush and Laura Ingraham and other conservatives to back off of our President and support him instead of bashing him each and every day.
It is time for everyone to support President Obama. He is our President. Gordon Curvey
For those of you in Washington state you can watch "Music Inner City TV" 24/7 on Comcast On-Demand. Morning/noon or night.
If you missed previous programs you can watch them right here by clicking "Television Show" link above.