ARTICLE FROM cnn.com (Full story click here)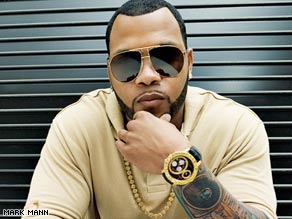 P.S Rapper Flo Rider recently had the #1 song on Billboard which is great for a rapper these days. Big shout to Flo Rider for making it to #1.
He was recently in town (Seattle) for a promo tour. But we at MIC-TV was not on the list I guest because he went to the Clear Channel radio station and did not do a interview with urban tv and in the inner city instead, he went to do a interview with folks who only care about ratings and making money off of urban artists.
This happens a lot here in Seattle. Where urban acts will come in town and run down to the Clear Channel radio station for terrible interviews done by dj's who really don't know about the music they play!
Anyway because of a big fee to play Universal artists, we do not play Flo Rider videos but it would have been nice to interview Flo Rider.
By the way on his new cd, Rider let's everyone know his phone number!! He says it's a way to touch his fans. I would not like to have my phone ringing and ringing and ringing. I imagine he gets hundreds of calls a day.
We hope to have Flo Rider on Music Inner City for a "real" interview with Seattle media. Gordon Curvey
Now you can watch ENTIRE PROGRAMS of "Music Inner City TV" right here ANYTIME YOU WANT!! 24/7 on-demand. Exclusive interviews and music videos you cannot see on MTV or VHI etc. Spread the work.
Just click "Television Show" link above.
"M.I.C-TV" on Comcast On Demand all over Western Washington state 24/7 and now online right here at M.I.C Online!!