Don't look for Rev. Run or his family to abandon faithful viewers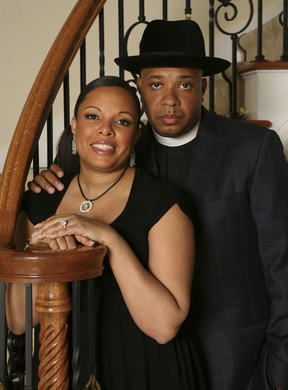 of their hit show Run's House anytime soon.
The popular MTV reality series has been given a green light for a sixth season, the rap icon revealed to AllHipHop.com today (December 19).
"It reminds me of Lucille Ball or the Cosbys. You do it if you love it," Rev Run told AllHipHop.com. "It's my ministry. It helps people. People's parents love it. You don't want to let go of what you're called to do until God tells you to move on. It's a labor of love and I enjoy it."
While agreeing to a sixth season was a no-brainer for Rev Run, it was the idea of a spin-off that solidified the deal.
The new show, titled Daddy's Girls will focus on Rev. Run's daughters, Vanessa and Angela as they run their popular Pastry shoe and apparel line while making a life in Los Angeles.
"The thing that excites me most is the fact that after five seasons of Run's House, that was the end of my contract and I was most proud that I must've managed it well enough that they'd come back and offer me Daddy's Girls and Run's House," said Rev. Run, who was amazed at his good fortune.
"That was a moment that I was like …Wow.' You feel like you did very good with kids and changing flavors and tastes," Rev Run commented. "To be going into six seasons of Run's House is mind-blowing to me. And then for them to add another show to it, Run's House and Daddy's Girls, it just felt like …Whoa. This is great.'"
The sixth season of Run's House will begin filming in January. Although Daddy's Girls will focus on Vanessa and Angela, the show will introduce viewers to the girl's cousin Jessica and neighbor Alycia.
And while he won't have a constant physical presence on Daddy's Girl's, Rev. Run will be accessible to his daughters via the telephone advice and mentoring, along with "meddling a little bit too much as an overprotective dad at times."
"Those are the type of things you'll see," he said. "Maybe I'll call a little bit too much and stuff like that, which is the way I am. I'm just very protective of them." With Daddy's Girls comes the chance to create what Rev. Run calls a natural extension of Run's House for viewers. "It follows the same positive note. It's not just girls running amuck in LA. It's young African-American women with business sense and morals," he said.
The Simmons sisters won't be the only ones gracing the small screen with a show of their own.
Family matriarch Justine Simmons will be back on the Home Shopping Network (HSN) next month with her hit show Brown Sugar by Justine Simmons.
Inspired by the Justine's love of 1930's and 1940's jewelry, items featured on the show include brown and white diamonds, white gold and sterling silver According to Rev. Run, the series, which premiered earlier this year, was tailor-made for his wife.
"She's doing wonderful. That is a big deal. It's a perfect fit for her," the entertainer said, adding that Brown Sugar allows Justine to come into her own with something she enjoys. "We do quite a few things, but this one fits her so wonderfully because she gets to be herself. She has fun. She designs the jewelry."
Daddy's Girls will premiere at 10:30 p.m. Jan. 5 on MTV.
Brown Sugar by Justine Simmons will air Jan. 20 on HSN.
The sixth season of Run's House will debut sometime in 2009.