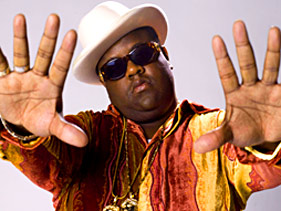 Some of the late Notorious B.I.G's greatest hits and early, little known recordings fill out the soundtrackto "Notorious," the forthcoming biopic about the legendary Brooklyn rapper. Slated for release on January 13th on Bad Boy/Atlantic, the soundtrack features hit singles that endeared Biggie to the masses as well as some of his demos, appearances from his family and brand new records from some of his closest peers, including Jay-Z and Jadakiss. The movie is slated for release January 16th.
Jay, who teamed up with Big for such classics as "Brooklyn's Finest," "I Love The Dough" and Diddy and Family's "Young G's," comes with "Brooklyn Go Hard." The Kanye West produced track features Santogold.
Jadakiss appears on "A Letter To B.I.G." The track was originally recorded for Jada's "Last Kiss" LP, and the filmmakers thought it was perfect to include on the "Notorious" project.
Obviously, Jad and Big were not strangers. The Biggie/LOX collaborations during the Bad Boy dynasty years were legendary.
Bad Boy has also confirmed that Biggie's son, Christopher "CJ" Wallace Jr. will be performing on a new version of "One More Chance." It's being labeled as a "a duet" by Bad Boy. CJ's mom, Faith Evans, sings on a remix of the song, also featured on the album.